Pacific Electric Railway 1100 Class Passenger Coach
By K. W. Hamilton
Transcribed with permission from Trolley Talk Magazine, from their No. 110. August 1975 issue.
Photos from the PERyhs.org archive.
In 1924 the Standard Steel Car Company delivered fifty new double-truck interurban cars to Pacific Electric, where they were given numbers 1100 – 1149, becoming a unique class capable of multi-unit operation with no other type like it on the PE roster. Similar in appearance to the earlier high speed 1200 class, they differed in important ways; among these being double door vestibules for rapid passenger handling in frequent suburban stops, smaller wheels for better acceleration and coping with grades on the Northern District routes where most of them spent their working years. They could not operate in the 1200-volt territory (San Bernardino Line) belonging to the 1200's, but did operate on the Southern District Lines on
Their appearance in the Western District was very rare, and Subway Terminal operation was out due to lack of brake safety trip valves. These apparent restrictions were not such in fact, they simply were facets of performance flexibility not needed when the cars served in the job for which they were designed, that of providing frequent, fast, suburban and interurban passenger service in which the cars had to cope with city street running, frequent stops, grades as well as welcome double and four track private right-of-way open stretches of faster running.
Forming the backbone of service to the Pasadena area and the Monrovia – Glendora Line, the 1100's operated into the 6th and Main elevated passenger terminal in Los Angeles, sharing that facility with various equipment classes. Like many interurban lines, the 1100's suffered the delays of street running until east of the Los Angeles River, where private right-of-way took them past Macy Street Yard and Shop and on to Pasadena where, once more, stretches of street running were necessary. One, two and three car trains were operated. Every New Year's Day the cars ran in three-car trains along with most of the cars of the rest of the system to provide transportation out of 6th and Main Streets to the world famous Pasadena Tournament of Roses Parade.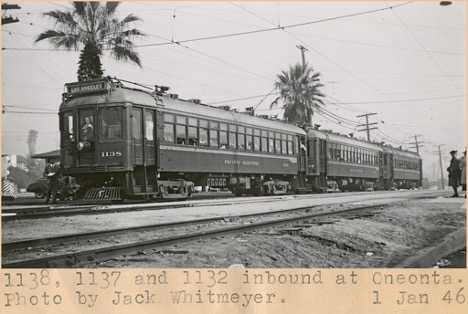 Car bodies, steps, and vestibule interiors were PE red. Underbody and anti-climber buffers, trolley boards and end floor mounted destination roller signs were brown. Step treads were grey or black, risers red. In later years an orange stripe with silver edging ran down the body side just below the belt line molding. With this stripe a gray or tan roof color replaced the earlier brown. Road name and car number were silver with black pin strip edging. The car interior was finished in cream headlining down to the molding over the windows.  Light green paint covered this molding, the window frames, posts and sills. A darker pine green covered the trim panels from below the windows to the grey floor. Cushioned seats in brown leather and bullseye light completed the interior.
Although relatively slow compared to the 1200's, the 1100's gave an impressive brisk and smooth ride in the 45 – 50 mph range. Air whistles were used effectively in private right-of-way running, roof mounted gong on city streets. In train operation each car obtained its power with its own pole. MU couplers carrying control circuits only. Some Los Angeles street running was on dual gage trackage shared with the much smaller and lighter 3' 6" gage LA Railway cars, the inner rail being common.  (An 1100 was most impressive when viewed from the rear platform of a preceding LARY car as the 1100 crept up to a halt close behind in rush hour traffic!)
Refer to the comprehensive publication of Ira Swett's "Interurbans" series for more information and photographs of the 1100's, other PE car types, and PE system descriptions. Interurban Specials No. 36 and No. 39 provide 1100 information. Assistance was offered by PE car diagrams and other data in preparation of this 1100 drawing and these notes, as well as to PE car body drawings (1" scale) which provided accurate bases. Although an observer of the Pacific Electric operation over the years as a Los Angeles resident, the writer, in common with many others, acknowledges a heavy indebtedness to the late Ira Swett for the knowledge he made available by his tireless research into history.
Although a few tons lighter than the 1200's, PE's 1100 were nevertheless in the BIG interurban class. In O gauge the model would be just under 15 inches long over couplers. To build your model use the plan on the appearance of your details.
Note the high floor level and massive Westinghouse automatic MU coupler (gets there way ahead of the steel bar pilot!).
The cast steel trucks had an efficient, uncluttered appearance.
6' – 8 inch wheelbase
34" wheels
2 – 110 HP motors
600 volts DC
Additional information from Ira Swett's Interurban Special # 36, page 298;
"1107 models the effects of the 1942 rehabilitation of the class; more orange striping on letter-board, light gray roof, hooded headlight for wartime."
By Steve Crise